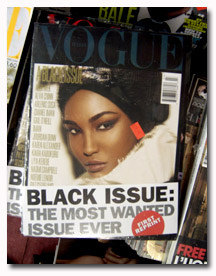 As reported by UK news source The Guardian, in the past four weeks, the July Issue of Italian Vogue has caused such a phenomenal demand at news-stands in Britain and the United States that Condé Nast, the publisher, has rushed to reprint and distribute 40,000 more copies.
Conceived by editor-in-chief Franca Sozzani, and shot by Steven Meisel from a roster of 18 new, established and former stars, the July 'black issue' sold out in Britain on arrival. Borders bookstores in the country have reported that demand was up 654% from the previous issue.
"It has been unprecedented, a sensation, although that wasn't the aim," said Jonathan Newhouse, chairman of Condé Nast International. Here in the States, the issue is shrink-wrapped and stickered with the words "First Reprint. The Most Wanted Issue Ever."