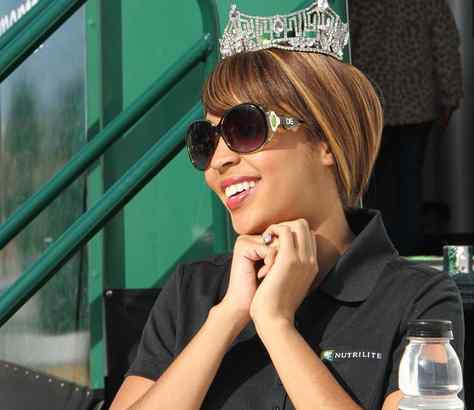 MISS AMERICA 2010, Caressa Cameron, is more than just pretty, polite and poised. The 23-year-old Virginia native is wise beyond her years. Despite many life challenges, she says she always "looks for the jewels in the journey." For her, giving up is never an option.
Cameron is the eighth African-American woman to win the prestigious title. Amazingly, she competed a dazzling four times before bringing home the Miss Virginia crown. Most less-determined young women would have given up way before then. But Cameron said she took each loss in stride, viewing it as a learning experience. And she had the smarts to apply any cash winnings she received to pay off her college tuition.
The 5-foot-4-inch frugal fashionista told me the pageant experience is valuable, win or lose. She also said that "you don't have to go into debt to participate. My swimsuit, for example, came from Target."
The aspiring broadcast journalist and talented singer was at the King of Prussia Mall to spread the news about phytonutrients and their importance in a healthy diet. She's here on behalf of the Amway nutrition supplement line Nutrilite.
Looking at the lovely Cameron, it is difficult to fathom that she was the proverbial ugly ducking in high school, with self-described "sideburns and a dreaded unibrow." She said her teen years were particularly awkward and difficult, and she had to deal with bullies, too.
But a pivotal moment was the day Miss Virginia 2003 and Miss America competitor Nancy Redd came to Cameron's school and gave an impassioned, encouraging speech that sparked something in her. Redd, also a woman of color, is a Harvard graduate and author of the New York Times best-selling book about women and their bodies, "Body Drama."
"She encouraged us to take the negativity and turn it into something positive," Cameron recalled. And that is just what she did. Ignoring all the naysayers, Cameron took Redd's advice to heart and never looked back.
The loving support of her parents and the inspiration she found in books like "The Giving Tree," "All the Places I Will Go" and "The Five Love Languages of Teenagers" also helped shape her into not just another beauty queen, but a responsible young women worthy of her crown.
Cameron is also on a mission to spread awareness about HIV/AIDS, whose harsh impact touched her life at age 8, when her uncle died of the disease.
"I saw and experienced the devastation and the stigma associated with the disease and I want to help spread awareness," she told me.
Cameron was told, many times, that she didn't have what it takes. But she kept going anyway, and she wants all young women to know that they, too, can triumph over adversity and make their dreams come true.
Read more: http://www.philly.com/dailynews/columnists/kimberly_garrison/20100923_Kimberly_Garrison__Cameron_ignores_skeptics__became_Miss_America.html#ixzz10jFdcjX8